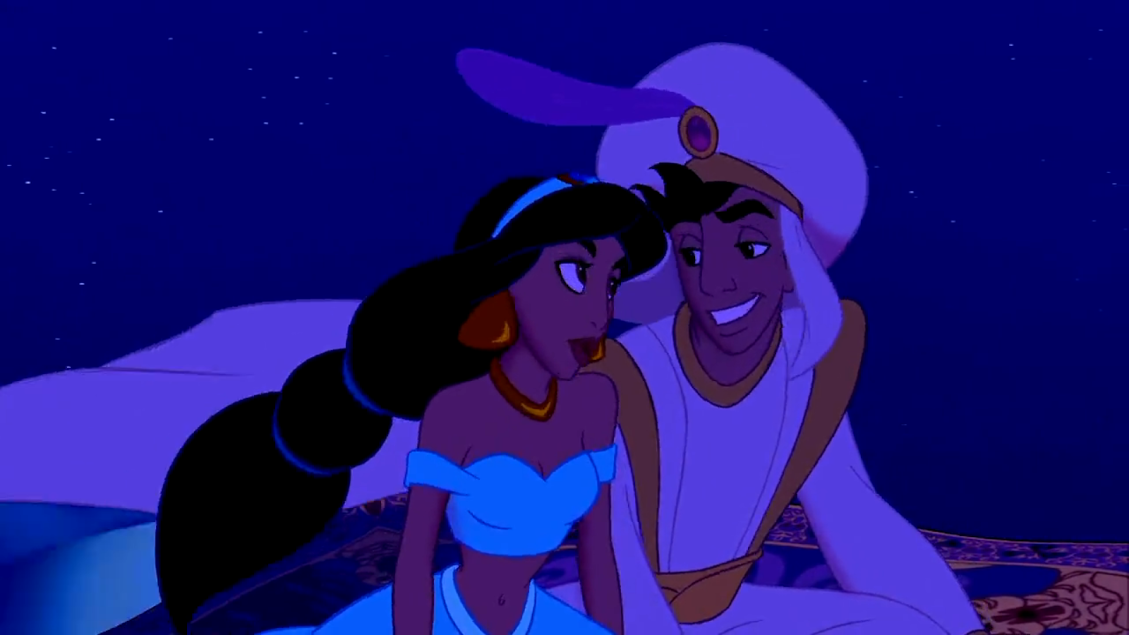 ………………………………………………………….
Aladdin Movie Review
Aladdin is a 1992 animated musical fantasy film that is the 31st Disney film and their second Renaissance film that is one of the best ones of the period.
………………………………………………………….
"Oi! Ten thousand years will give you such a crick in the neck"
………………………………………………………….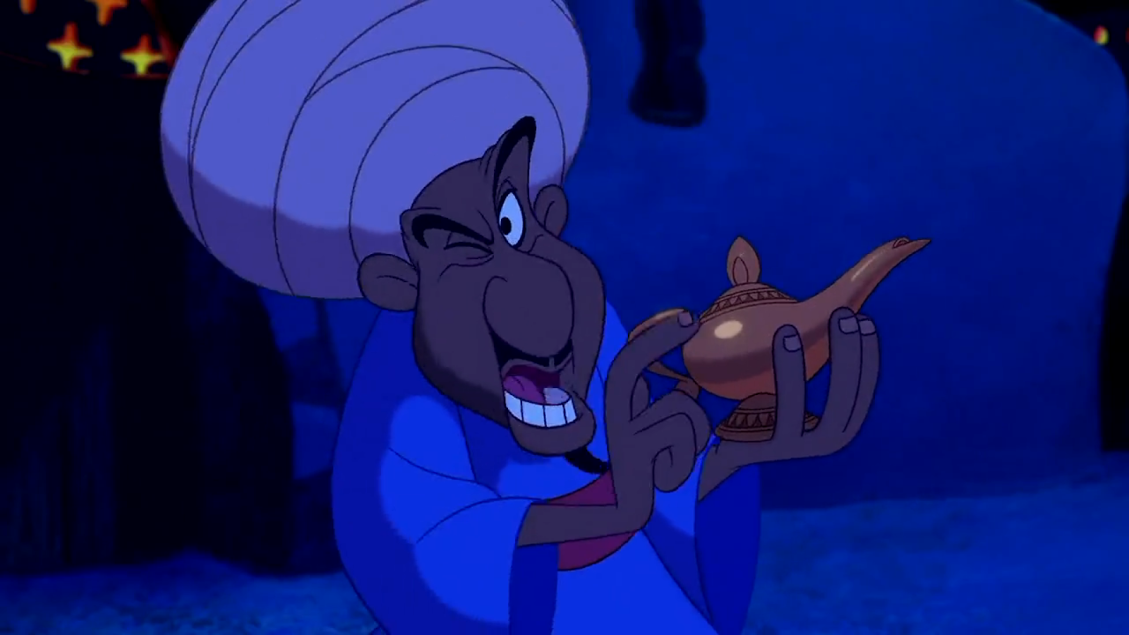 ………………………………………………………….
I love the plot here, I really do. What separates Aladdin from previous Disney entries is its Middle Eastern setting which is so intriguing and refreshing to see. It is also very well utilized and certainly well handled. I loved the fictional Agrabah and everything about it as the world building is phenomenal here. The opening is excellent and the framing device with the peddler telling the story is quite well executed.
Then we are introduced to our protagonist in a quick, but successful manner and those street sequences were terrific. The meeting of the two is also superb. The scenes in the cave are fantastic and they benefit from some of the best action that this movie has to offer, so exciting and entertaining. The romantic sequence is the highlight for me as it is just perfect.
………………………………………………………….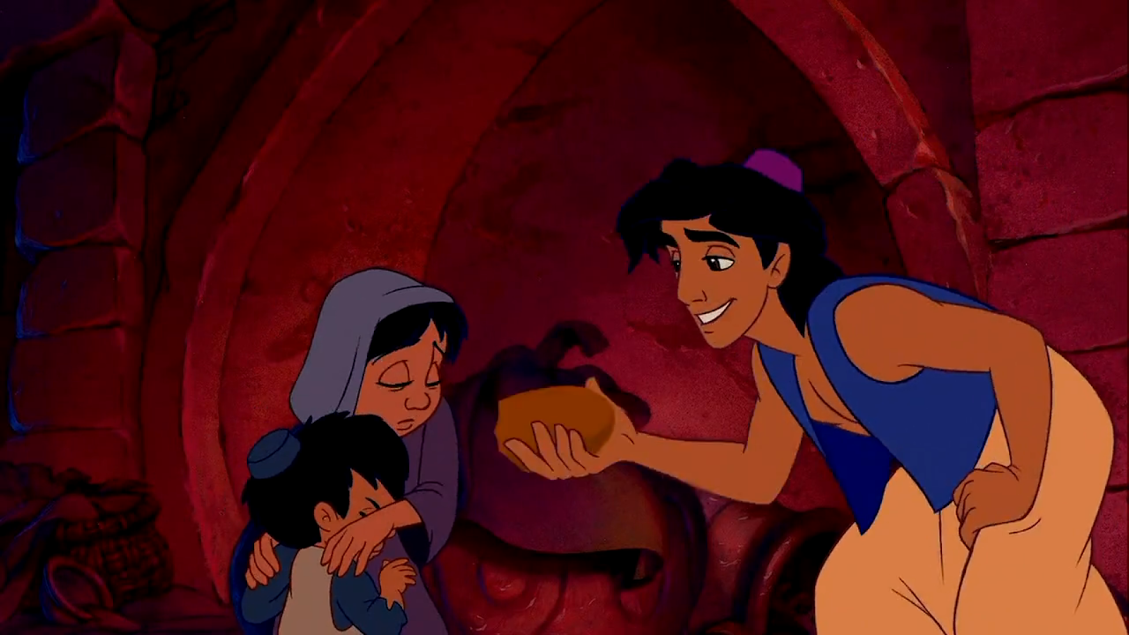 ………………………………………………………….
Some of the next scenes are good, but definitely a bit rushed and the movie would have benefited greatly from a longer running time, at least as far as I'm concerned. The fight is also flawed, but I will talk about it later. But the ending is so charming, so endearing and just such a perfect way to end this flick.
Let's talk about the characters. Yes, Aladdin and Jasmine (and especially their relationship) aren't as well developed as Belle and Beast are in 'Beauty and the Beast', but they are still mostly great. The reason why I personally rarely connected with these two is because of their cocky, extremely arrogant nature and they both shared that personality trait which is why they're so perfect for each other. And although sometimes too cocky, that made them all the more realistic. They have their flaws, but are also inherently kind. And that was well established from the get-go. Their problems aren't dealt with as much as the film is overstuffed with too much story, but what we got is still pretty good and their relationship is mostly very strong.
………………………………………………………….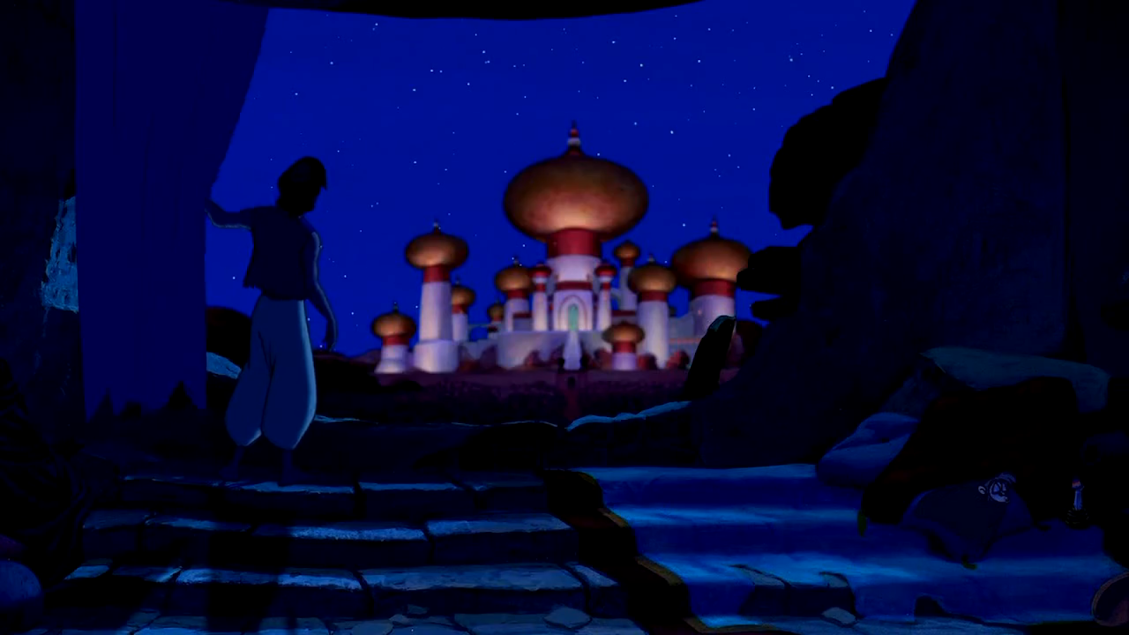 ………………………………………………………….
Yes, Jasmine is one of the more independent and fearsome Disney Princesses and I liked that about her. But I still liked that she wasn't the focus of the film, but Aladdin and that was great as these types of Disney movies are rarely male-centric and this one separates itself from the rest of the pack because of that.
Now let's talk about The Genie. Well, he's an interesting character for sure and some of the choices they made with him were done for better and for worse. He is funny, there is no denying that and some of his lines were absolutely hysterical. However, I know that this is going to be controversial, but I think that the use of Robin Williams as his voice hurt the character in the long run mainly because it brought a very dated, too much of a 90s feel to the movie that should have been timeless. And that is one of my major problems with this movie – it just isn't as timeless as other Disney classics of the period are.
But even though some of his humor was forced and he was too loud and too emphasized, I still liked him for the majority of the running time, especially because he brought a great deal of development for Aladdin himself. And truly the relationship (read bromance) between the two is just fantastic, so layered and realistic, but also sweet and emotional. They share the best relationship in the movie, much better in my opinion than the romantic one between Aladdin and Jasmine and I don't know what that says about this movie, but take it as it is.
………………………………………………………….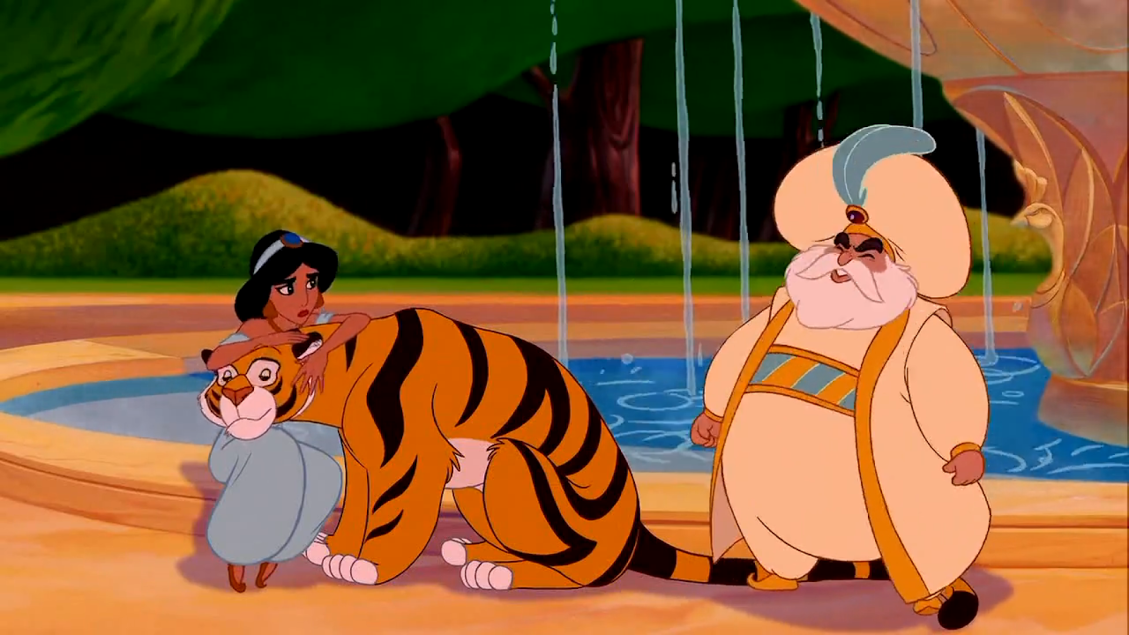 ………………………………………………………….
Jafar is mostly great. Mostly, because his undoing near the end is so stupid and so typical and cartoony that it really hurt his villainous status in the Disney history. That is why that fight at the end was so flawed to me. But besides that, he was truly fantastic before and not only was dangerous, but also delightfully menacing and I liked how he was quieter form the usual Disney villain.
Iago is pretty good as his henchman. In fact, he is undoubtedly the most underrated character from Aladdin, the one that surprisingly provided a lot of the humor to the table and who was a great fit for Jafar. The Sultan is endearing and sympathetic as Jasmine's father and Abu is so good and memorable as an established mute sidekick for Disney. He is notorious for being a thief and all the more memorable for it. Rajah is adorable as Jasmine's pet, but underutilized. And Magic Carpet is so charming and it is admirable how the animators managed to bring human emotion to a carpet.
Aladdin's animation never reaches the heights of Disney's previous two movies, but it is still very strong and at times exceptional. The romantic scene is of course the highlight as it was so well animated and just beautiful to behold, but the character design is also exceptional and it is so admirable how the animation never stayed behind Genie's vast variety of changes and appearances. That was certainly hard to film, but they managed to pull it off. Agrabah looks great, the scenery is really good and although it somewhat lacks in detail, the animation here is always polished and consistently satisfying.
………………………………………………………….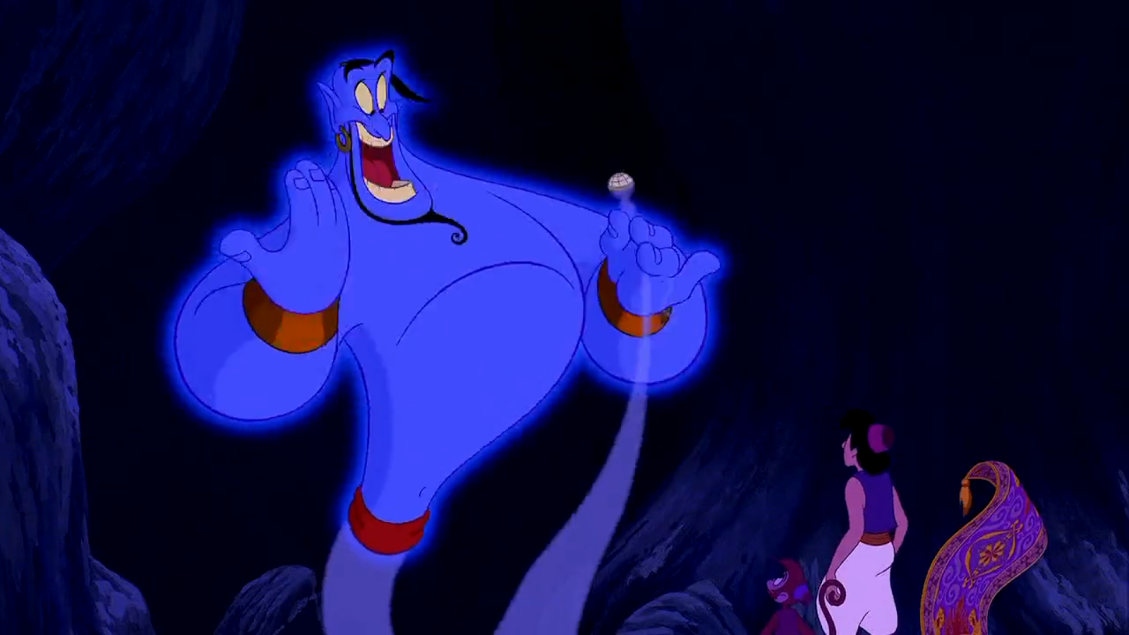 ………………………………………………………….
The soundtrack is top-notch. Without a doubt, Aladdin's soundtrack is one of the finest in the Disney canon as almost all of these five songs are great. Arabian Nights and Friend Like Me are my least favorite songs as the former is functional as a solid opener and is fitting in style to the time period and setting but is never memorable and the latter is certainly fun, energetic and the most inventive scene in the movie, but it relies too heavily on its amazing ending and the rest of it is never as great or as catchy.
One Jump Ahead has an emotional reprise where you get to know the heart of our hero and the original one is one of the most underrated songs of the period because the lyrics are so good and at times wonderfully snarky and funny and the tune is just so catchy. Prince Ali also has a good reprise that is sung by a villain which is so interesting and refreshing, but the original one is the highlight as it has some great lyrics (every song here has phenomenal lyrics, courtesy to one and great Howard Ashman), is accompanied by a fun and colorful scene and is entertaining and catchy to boot.
………………………………………………………….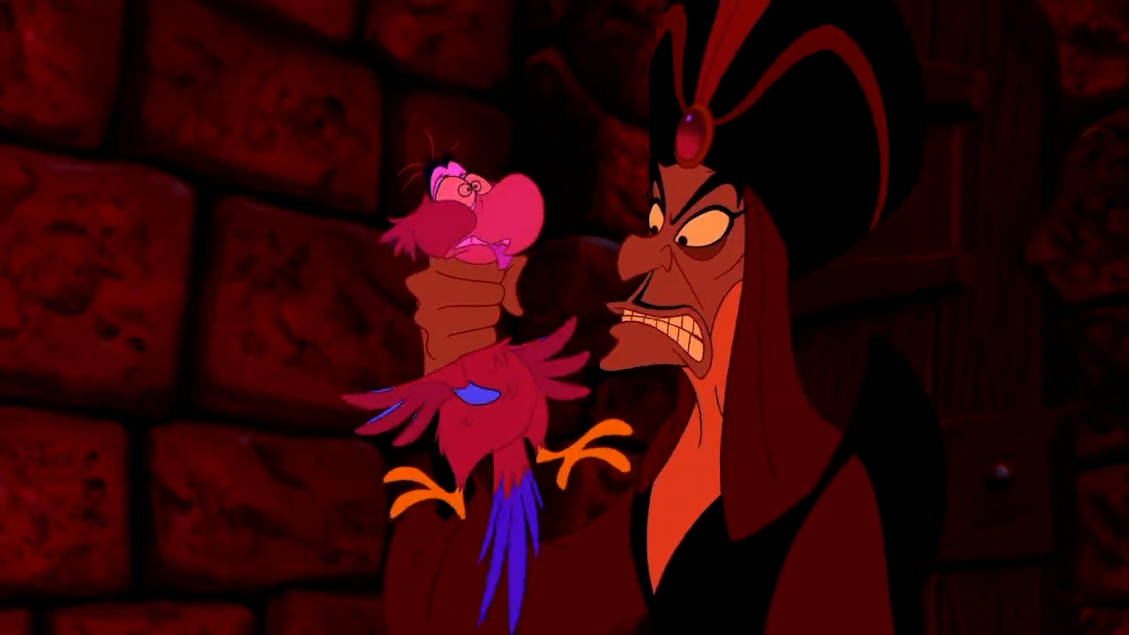 ………………………………………………………….
But the standout is naturally A Whole New World which is just breathtaking. It is one of the very best Disney ballads of all time, a song imbued with an everlasting appeal and a timeless quality to it. The animation in this scene is gorgeous, the romance reaches its finest point, the lyrics are wonderful and romantic and the tune is so catchy, but also wonderfully sung and just so beautiful to listen to. Truly a scene and song that both leave a lasting impression.
Aladdin is a technically polished movie with great direction, mostly good pacing, if at times rushed and such a phenomenal acting. Yes, I gave some hard time to Robin Williams, but he is still undeniably fantastic in this role, unforgettable and easily gave one of the finest ever voice acting performances. The same goes for the rest of the cast with Jonathan Freeman as Jafar being the highlight.
The movie does feel to modern at times, but in other scenes, it's pretty timeless. It is a mix of both done for better and for worse. It is very romantic and so sweet. I loved the humor here. Iago is phenomenal as is Abu and both are great sidekicks. As for Genie, the highlights were some of his lines at the end with the one where he refuses to grant a wish to Ali being just hysterical and such a perfect delivery.
………………………………………………………….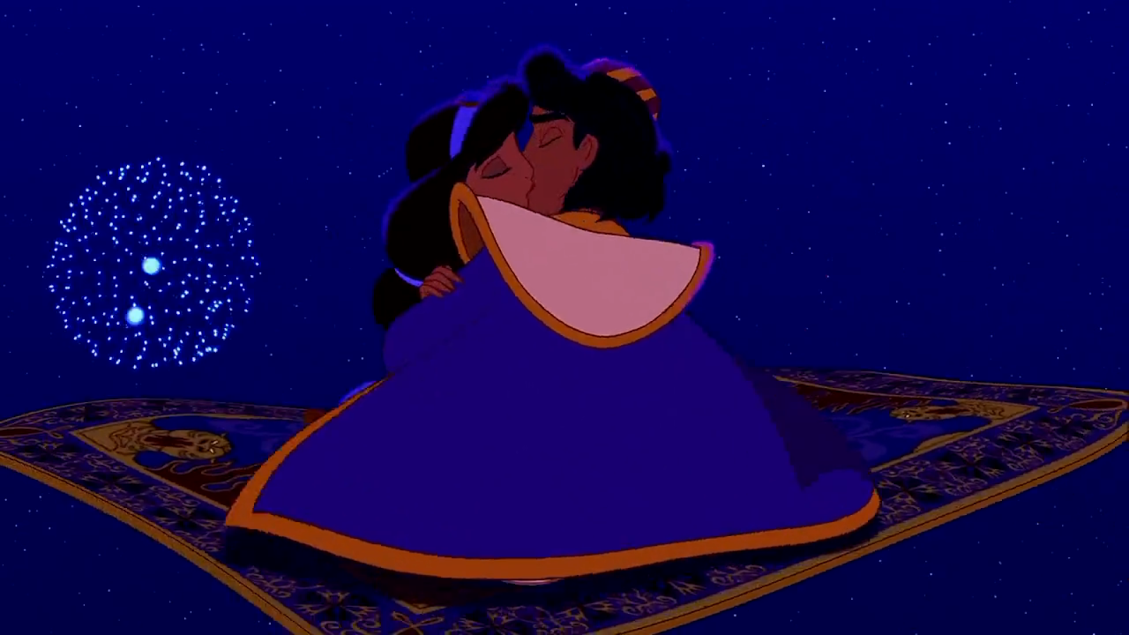 ………………………………………………………….
The dialogue isn't the strongest, but it is mostly good. The tone is great and the film succeeds both as a fantasy and as a romance. And as a musical as well in spite of having just five songs. The scenery is great and The Cave of Wonders is so memorable and Agrabah is gorgeous. The fantasy elements are great with the lamp and the magic being so well incorporated. The movie is also very emotional at times with that final scene with Genie being absolutely beautiful. Some of the other highlights in terms of the scenes are the cave scene, the carpet ride of course, the opening and the moment where the two lovers first meet. Overall, Aladdin has its obvious flaws, but is mostly a great flick and one of the better, if not the best Disney entries.
Aladdin is at times rushed, too modern and sometimes quite problematic, but as a whole, the film is a big success with such a great world building, superb animation, memorable characters, inherent emotion, many unforgettable sequences and an amazing, top-notch soundtrack with the highlight being A Whole New World which is a classic Disney song. The film succeeds as a fantasy, musical and a romance, but also as a comedy because it is pretty funny at times. But it is above all a fun and adventurous experience that is one of the best Renaissance flicks.
My Rating – 4.5
………………………………………………………….