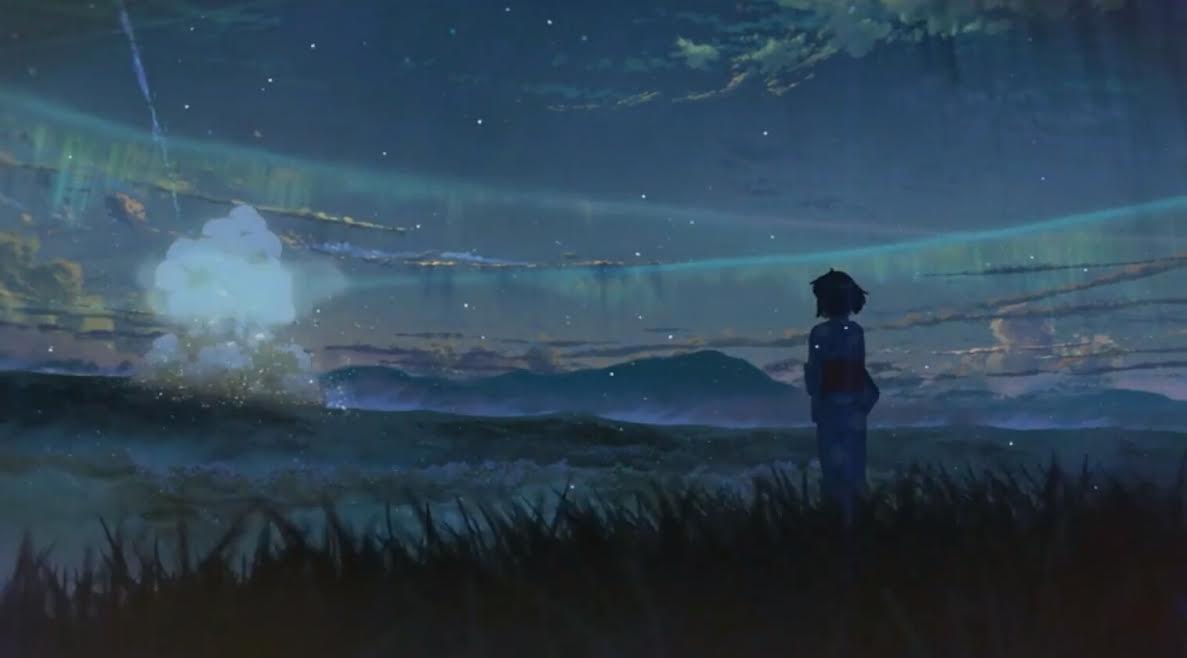 …………………………………………………………….
Your Name Movie Review
Your Name is a 2016 romantic fantasy anime film directed by Makoto Shinkai. It is his weakest film so far without any doubt.
…………………………………………………………….
"Your name is…"
…………………………………………………………….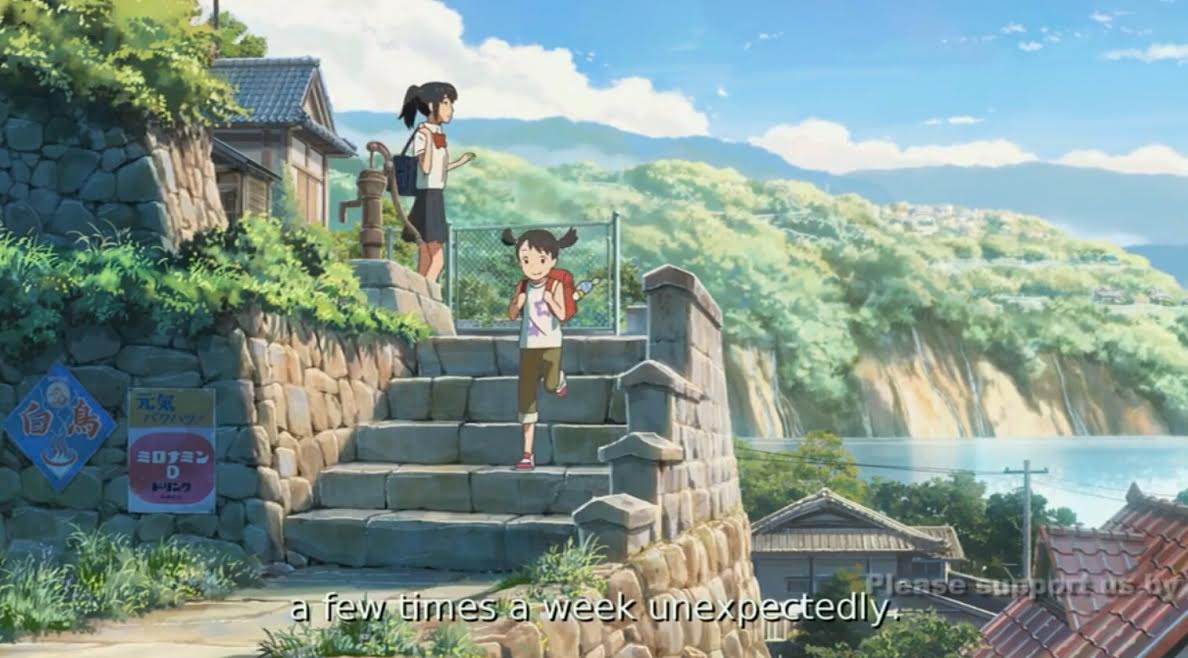 …………………………………………………………….
It tells the story of a young man living in Tokyo and a young woman living in the countryside who suddenly start switching bodies on a regular basis. The premise itself was awfully weird. Odd actually as it isn't particularly appealing. It led to a lot of overly sexual and typical teenage humor which I did not appreciate at all.
But the major problem here is most certainly the romance. We've seen this type of romance countless times before as Makoto Shinkai is basically repeating himself here. We've seen the theme of star-crossed lovers and beautiful, distant romance before and done much better, especially in his '5 Centimeters Per Second'. This is basically a rehashed idea with only the switching of the bodies part being new. But because I found that aspect to be too odd, I ended up not really liking the overall story.
But there are some exceptions to that. Certainly some scenes were way too good that even a non-fan like me has to admit their greatness. Some of the dreams were quite moody and intriguing and the last sequence in particular is very charming and a sweet and romantic way to end the movie.
…………………………………………………………….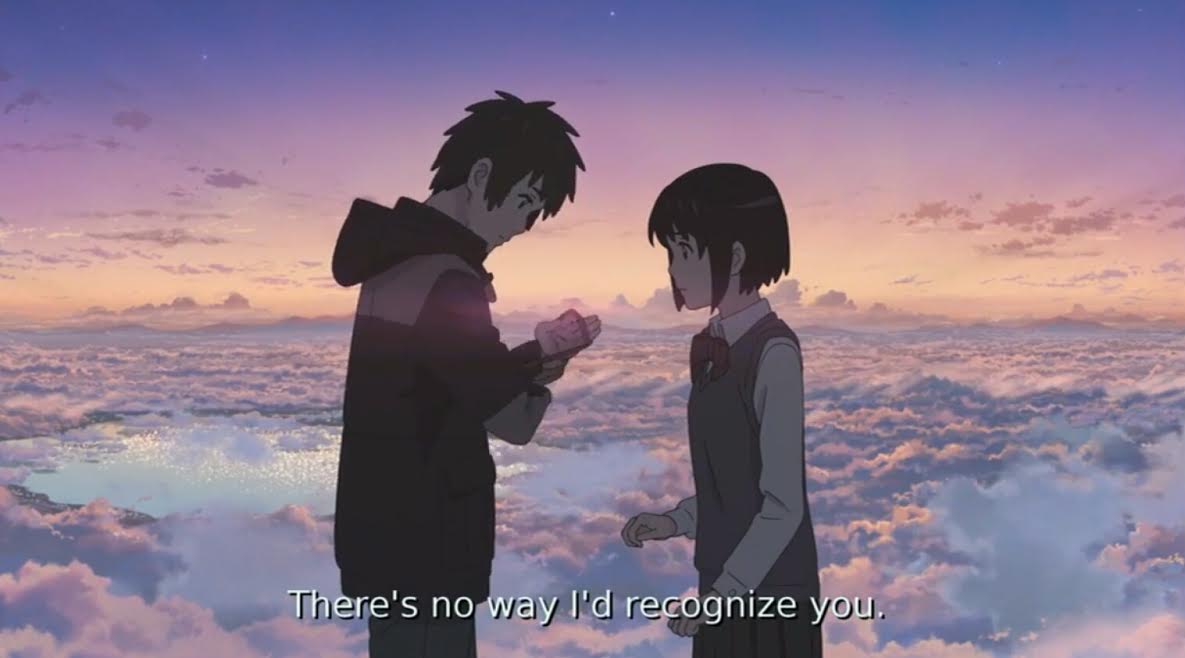 …………………………………………………………….
The characters are solid, but not as great as the script demanded them to have been. The supporting characters are all forgettable, but the central duo is likable and their romance is sweet and emotional, albeit not nearly as well developed as I would liked to have seen.
The animation in Your Name is definitely its strongest aspect. The overall animation is so polished and professional, but the scenery is the highlight. Some of the imagery at display here was just gorgeous to behold and I loved the use of both country and city in its settings. That was important for the story and really well utilized visually too. I especially liked its pleasing color palette and a couple of sequences were even jaw-dropping in their beauty.
The soundtrack is pretty solid. The songs aren't well incorporated whatsoever into the story, but they are catchy and memorable. But they added to this movie feeling like a TV show instead of a film and that feeling I just could never shake and it really bothered me.
…………………………………………………………….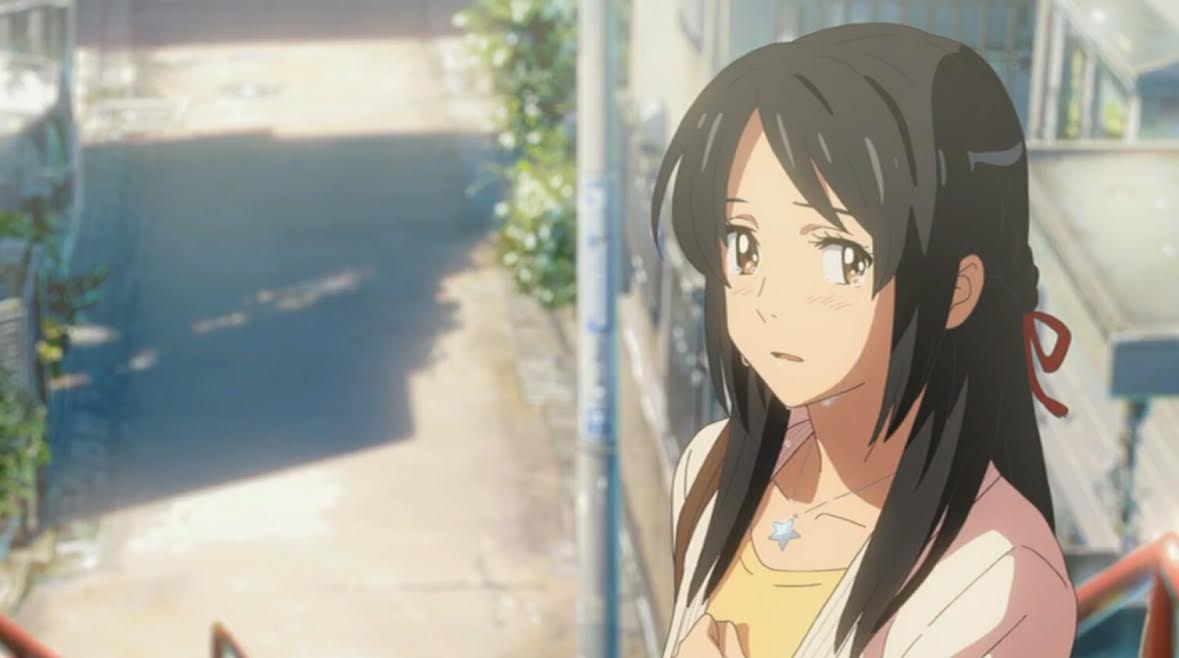 …………………………………………………………….
The voice acting is good and the directing from Makoto Shinkai is pretty good as usual. He does repeat himself here, but at least the film flows well and is well directed as a whole. I found the film's structure to be naturally important for the film itself, but it was still awfully annoying at times as I strongly dislike the dream structure as a whole. That is why I just could never connect and get into this movie and even some scenes felt boring to me. I definitely can see the appeal here as some scenes are very strong, the romance is pretty memorable and it can be quite sentimental and epic at times, but neither of those aspects were particularly well developed to me personally which is why I found the movie to be just solid and nothing more than that. It is certainly his weakest film so far.
Your Name is by far the weakest film from Makoto Shinkai so far. Yes, the animation is beautiful, its romance is memorable and a couple of sequences are certainly charming and moving, but even though I can definitely see its appeal, I could never get into it personally. The film is way too derivative of his previous works, the dream structure is annoying, the plot as a whole is pretty uninspired and it never felt like a movie to me, but rather like a rushed anime TV show. In the end, it is one seriously overrated anime film that hugely disappointed me.
My Rating – 3.5
…………………………………………………………….