…………………………………….
The Incredible Shrinking Man Movie Review
The Incredible Shrinking Man is a 1957 science fiction film directed by Jack Arnold and starring Grant Williams and Randy Stuart. It is a solid, albeit a bit boring movie.
…………………………………….
"Yes, smaller than the smallest,
I meant something, too.
To God, there is no zero. I still exist!"
…………………………………….
The premise itself is a lot of fun and I liked the plot here for the most part. The beginning was a great introduction and I really liked the first half because it has some very moving sequences that actually explored this issue pretty well. It was great that it wasn't just action and spectacle, but it focused on actual emotion quite a bit at times.
…………………………………….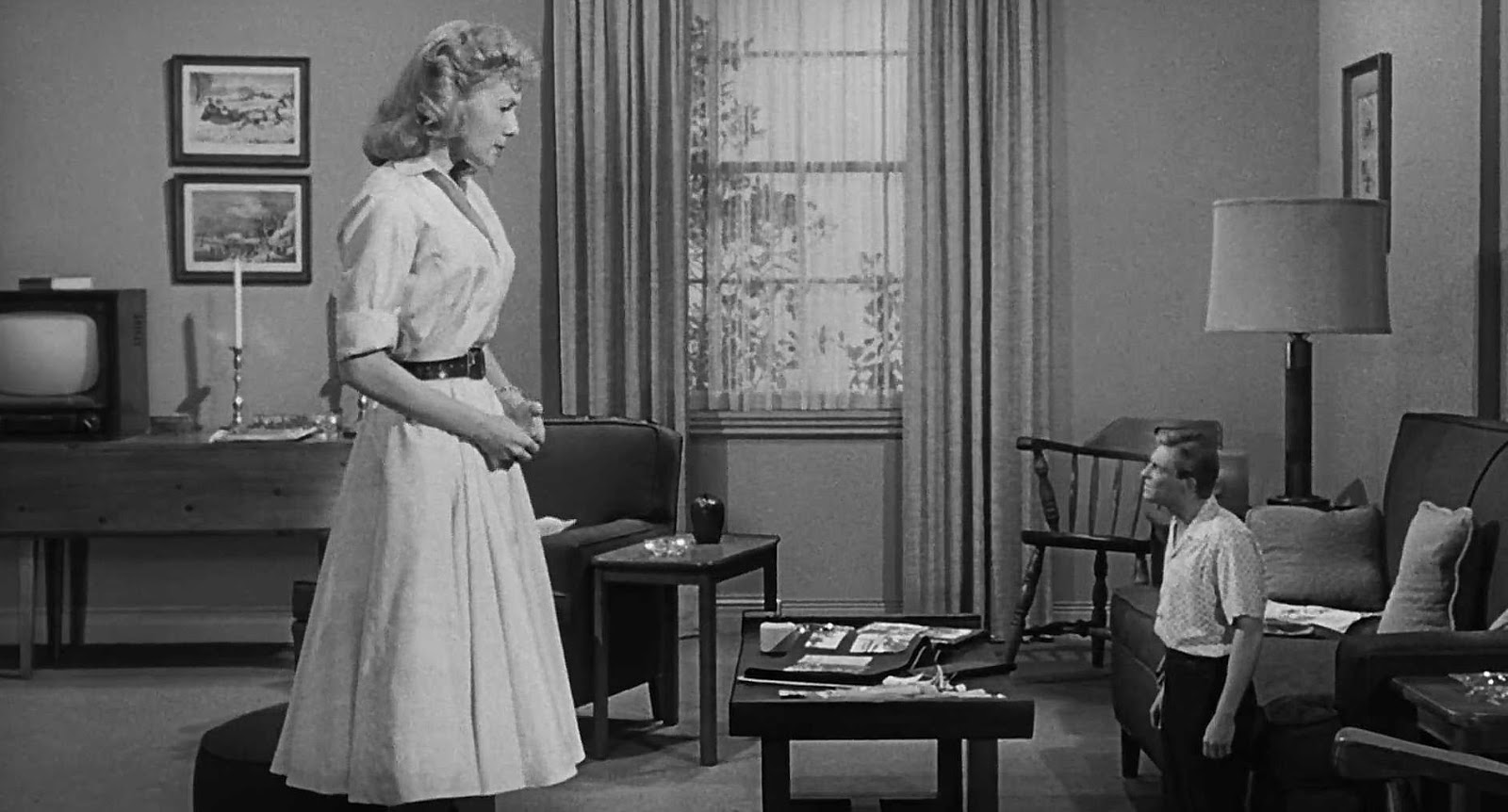 …………………………………….
But, the second half was unfortunately a giant let down for me. The entire survival aspect to it was very boring to be honest because those spider sequences in particular were just way too long and repetitive. It was as if the movie suddenly stopped as it really became too slow and dull. And as for that ending, I've had mixed feelings about it. On the one hand, I really respect it for going against the formula and for being such an inspirational, really clever scene. But on the other hand, it did feel out of place as it was quick and sudden, but also very odd and somewhat not fitting for this film.
The characters are pretty good. Scott is fine, but I was honestly annoyed by his voice narration. The narration here was sometimes very pleasant and reminiscent to a book reading experience, but it was mostly typical and excessive. I liked Louise as she genuinely struggled with Scott and his shrinking problem and I really liked their relationship. As for the acting, it is nothing spectacular, but both of the actors deliver solid, satisfying performances for this kind of film.
…………………………………….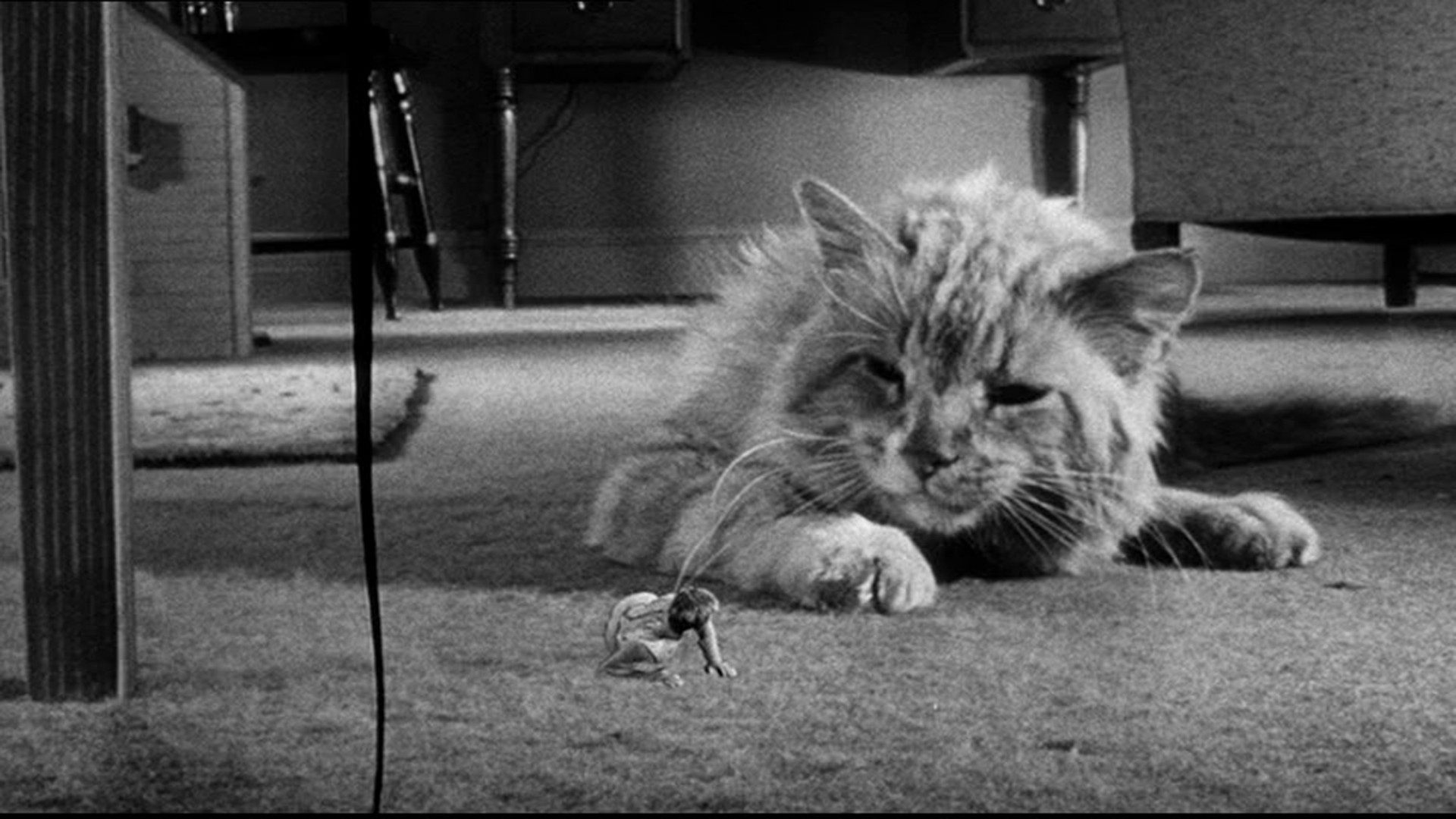 …………………………………….
The Incredible Shrinking Man is a strong movie on technical grounds. The special effects are absolutely fantastic for the time. Yes, there were moments where I could see that it was the effects, but mostly they were seamlessly incorporated into the action as Scott felt real for the most time and that is quite an achievement. And I liked that action. I was bored by the spider and construction sequences as those were too long, but that cat scene is definitely the highlight of the movie as it is so memorable and so well executed.
I've had the problem with the film's score. It was definitely good, but it felt excessive at times with an overemphasis on dramatic and loud score during the action scenes and because those were long, the effect of the score was reduced. But the movie is pleasantly dramatic as well as emotional and heartwarming in tone and it does have at times pretty on-the-nose, but also at times clever dialogue. The sound effects are solid, but the pacing is problematic as the film is just 80 minutes long and feels longer which is never a good sign. It definitely is too boring which is unfortunate given its very entertaining premise. But it is unpredictable in its ending and sometimes very sophisticated. And its visuals are the highlights. The Incredible Shrinking Man is in the end a solid blockbuster of its era, but it never comes close to the best sci-fi works of the fifties due to its many annoying detractors.
The Incredible Shrinking Man has a fun premise, a pleasant emotional as well as dramatic tone to it, some very memorable action sequences and an interesting ending, but that ending was still odd, some of the action is too prolonged and dull and the film has an excessive use of narration. It is a solid, but very flawed sci-fi film.
My Rating – 3.5
…………………………………….